24option Demo Account
How to open a demo account with 24option?
On 24option trading platform, you can practice trading binary options with a demo account before you embark on real trading. It is very important for traders, especially novice traders, to get familiar with the trading platform by using a free demo account so as to avoid unnecessary losses in real trading. Therefore, it is recommended that you take advantage of demo account to practice before you start real trading in binary options.
It is easy to open a demo account with 24option. A real trading account is needed before you can open a demo account. Thus, if you do not have a real account, you should open a real account with 24option first. It only takes 2~3 minutes to sign up for a real account.
After you complete the signup process, you need to make a deposit to your real account. If you do not make an initial deposit, you will not be able to open a demo account. On the 24option trading platform, the minimum deposit amount is $250. If you have completed the signup process and made a deposit, you are ready to open a demo account.
Open a demo account via live chat
If you opened a real account and made a deposit, you can request a demo account via 24option live chat.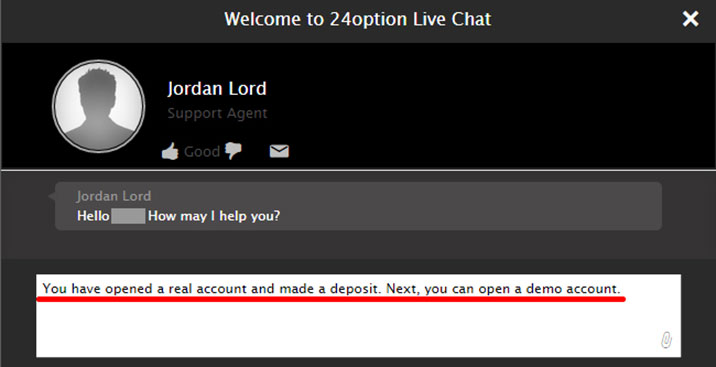 ※ You can get access to the 24option live chat interface by clicking on the "Chat Now" displayed on the home page.
You can request a demo account by contacting customer service team via live chat. You can then get ID and password for your demo account. If you want to sign in to your demo account, you need to sign out of your real account first. Then, you can login to your demo account with the ID and password issued to you.
Practice trading with a demo account
In demo trading, there is a limited amount of virtual money available for you to practice. If you placed a trade with a large amount of virtual money and lost in the demo trading, you will not have another chance to practice to master the trading skill. Therefore, it is recommended that you place a trade with a small amount of virtual money so that you can have more practice.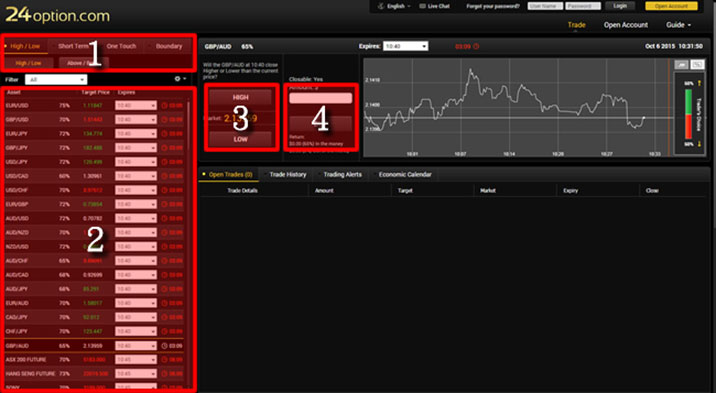 The platform for demo trading is the same as that of real trading. 24option is using the binary options trading platform powered by Scipio. The trading platform is very user-friendly and easy to use.
1. Choose a binary options type: High/Low, Short Term, One Touch, or Boundary. 2. Choose an underlying asset: indices, currencies, stocks, commodities. 3. Choose between two options. If you trade High/Low, you choose either HIGH or LOW. 4. Input the trade amount and click "BUY".
As shown in the graph, a trader can place a trade with just a few clicks. 24option offers a wide range of underlying assets for traders to trade with. You can practice in the demo account to find out the right underlying asset to trade. By demo trading, you can also test your trading strategies and improve your trading skills.
Trade binary options on
For those who have just started binary options trading, instead of trading commodities such as gold and silver, it is recommended to trade currency pairs that are paired with USD or EUR. This is because that there is a lot of information available about these currency pairs.
USD
The US dollar is the official currency of the United States and it is the world's largest reserve currency. People who hold reserve currency can make purchase without exchange their currency in international payments. If someone wants to exchange Japanese yen for Australian dollar, he cannot convert directly. The Japanese yen has to be converted into US dollar first. Then, US dollar is converted into Australian dollar.
Developing countries and countries with low valued currency due to economic and political impacts would like to hold US dollar as reserves.
EUR
The euro is one of the most traded currencies and it is usually traded against the US dollar. The EUR/USD is the most traded currency pair in the world.
The euro is the official currency of the eurozone. The situation of the economy of all member states of the European Union can influence the euro's value. Therefore, when a trader predict the price movements, it is important to look at economic situation of more than one country.
GBP
The British pound sterling is the official currency of the United Kingdom and it is the most volatile currency among the major currencies.
The British pound sterling was once the world's largest reserve currency. The volatile pound sterling would make it difficult for novice traders to make a correct prediction in the short-term trade. However, it is popular among experienced traders and traders who are good at short-term trading.
*Trading binary options involves substantial risk and may lead to loss of all invested capital.
Binary Options Broker Introduced