The disadvantage of binary option
About the disadvantage of the binary option.
Understand the danger and risk of investment and make a profit!
If it is the first time for you to start binary option, you should know the pros and cons precisely. There is no guarantee that you make a profit from an investment so that you have to see the disadvantage and the way of risk management which are very important.
If your prospect does not hit, you lose all investment cost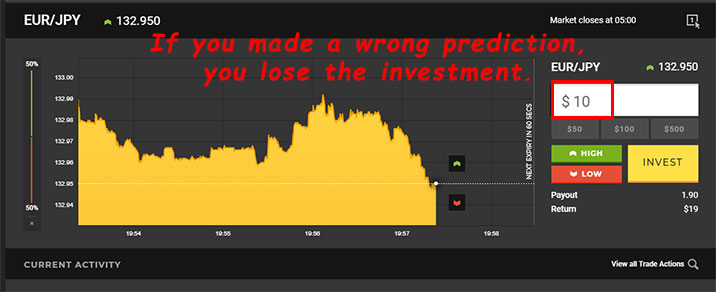 You can finish a trade in a stocks trading and Forex if you get the minus.
Therefore, if you finish the trade at that time, you do not lose all your money.
However, a binary option is a choice between the two so that you lost whole money when your prospect was wrong.
But if it becomes a binary option, the trading span is fixed. You cannot finish the trade during judging. If the trend drastically goes against your prospect, All you can do is just waiting for the end of that deal.
There is the system called "Right abandon," which is the service to finish the trade in the middle of the way.
The broker who has that service is limited.
Even if they have that, you cannot do that around the end of the period.
There are the limitation in a trade.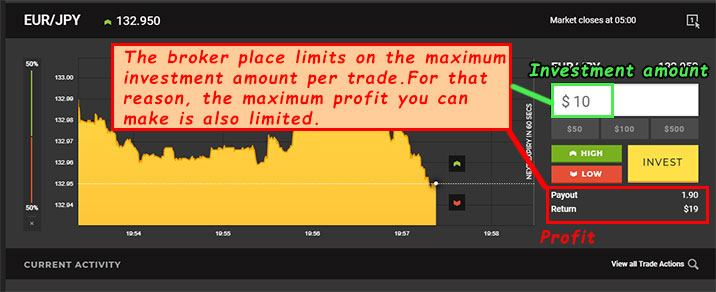 Each binary options brokers have the limitation of the cost of investment and the trading time is short. Thus, the primary stream is that a trader repeats one trade consistently and make a profit as a total.
It is not the investment like you move the million to get ten million at once.
There is the limitation to get money because you do not have the risk to lose much means.
Also, if you put a lots money and mistake it, you lose all of that, and then it is quite risky. You do not have to trade with the max number, but should control the amount and find the point to take a risk and go.
You may tend to throw money consequently
The maximum losing cost is fixed, which is apparently the advantage. On the contrast, It may be the disadvantage.
Because the trading period is short and the cost is low, a trader tends to repeat treading again and again.
Without risk and cost management, it can make a considerable loss.
It is no problem as long as you are cool-headed, but if you feel to be used to do it, you may commit it.
Again, the most important thing is not learning how to make a profit but manage the risk.