The advantage of binary option
Understand the advantage of binary option
Why can beginner start investing quickly with this?
I list up the merit of the binary options below.
※ You will get more in-depth knowledge of the disadvantage part.
You can know the gain and loss before investing.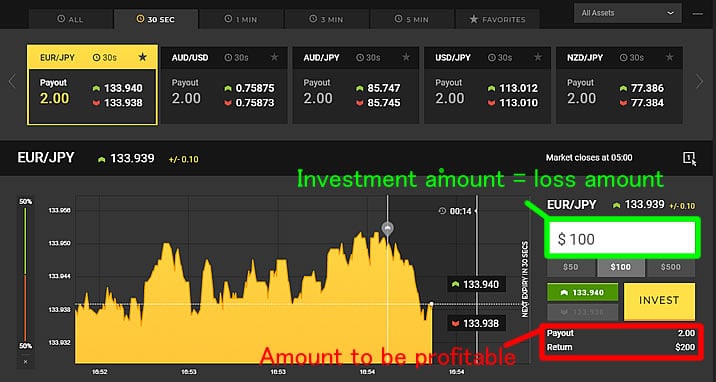 Compared with other investing option, you can know the profit and loss before you invest.
Planning for beginners is easy.
It is different from Forex in the point of the fixed dividend rates.
You can get the dividend by payout rates without volatility.
The crucial risk is less with fixed investment

You can start one trade with a small amount of money like 1000Yen or$10.
It is good for limited budget trader.
Each company has lowest trading cost, and some companies offer it from 100Yen or 500Yen.
It is opposite the idea of financial commodities that you need a huge money to start investing.
Apart from you can start trading with low cost, it will never happen the case that you lose around a few 10,000Yen in a day because they set trading time beforehand and the worst case is just "invest cost = loss."
It is not like Forex which repeats buy & sell during watching price trend.
If you do not know, you can do it

Of course, you can make more profits if you know, but even you do not. Still, you have a chance to win.
Because it is a choice between the two, it is just 50% without knowledge.
In that case, it depends on your luck, and it is relatively enough for a beginner.
Once you get accustomed to it, you can increase the 50% even without investment experience or knowledge.
It does not take a much time

Most of the binary options company offers minimum 10 – 15 min. trade.
You get a profit faster and will not be annoyed than stocks or Forex trading which are you have to decide the timing to finish the trade.
You can trade in the short term, e.g. 30 seconds or 1 minute, in High-Low Australia.
If you make a profit in short time, I recommend it to you.