How does the login screen look like? What to do when you cannot log in to High-Low Australia?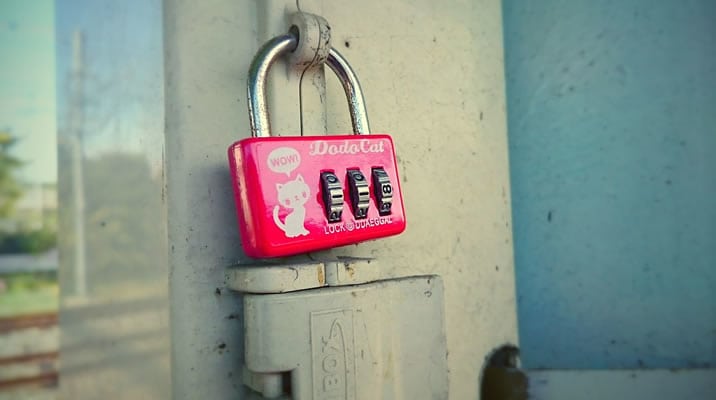 Where is the login screen in High-Low Australia?
I often see a question on our website; "Where is the login screen?"
Primarily, many people could not seem to find the login screen in PC so that I will explain how to go to login screen.
There are several ways to go to login screen. If you already have an account of High-Low Australia, you should have a mail during your opening account process. You can go to the top page of High-Low Australia with the given URL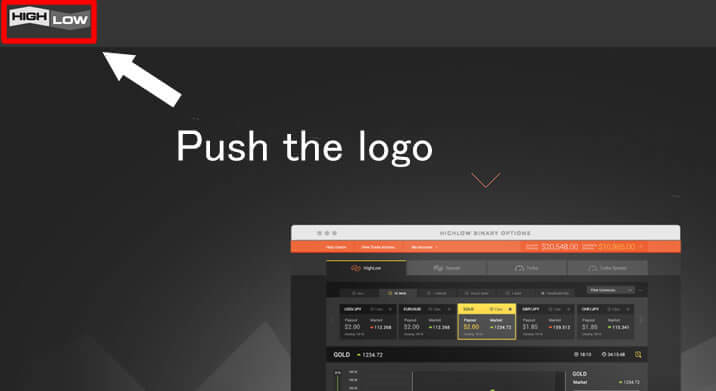 If you decide to go to login screen from this website, whether you use PC or smartphone, you are supposed to go to opening account screen once.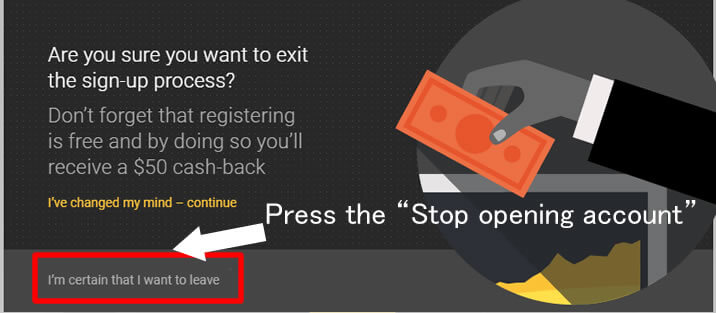 When you press the shown "Stop Opening account," you will find the Top page of High-Low Australia. You could also find "Login" button, and click it to go to login screen.
It becomes difficult since the new platform is adapted. It is more accessible to login if you bookmark it.
How to login in to High-Low Australia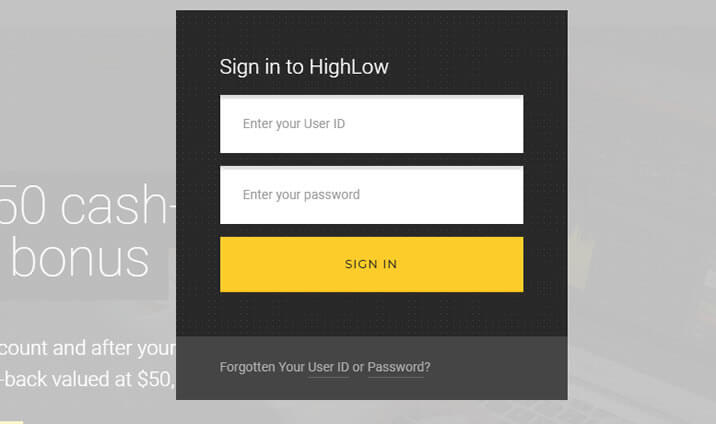 When you find the login screen, you also see the page like above. After that, all you need to do is fill "userID" and "Password" and press "login."
※If you forget the password, no worries! They re-issue it. Then you click "forget password?" and set new "Birthday" and "E-mail for registration" to reset your password.
Sometimes, you cannot login
When you trade in High-Low Australia, you sometimes face the situation where you cannot log in. I know that it makes you scared. When you want to log in, it says "Username or password is invalid," which makes your mouth kept opening.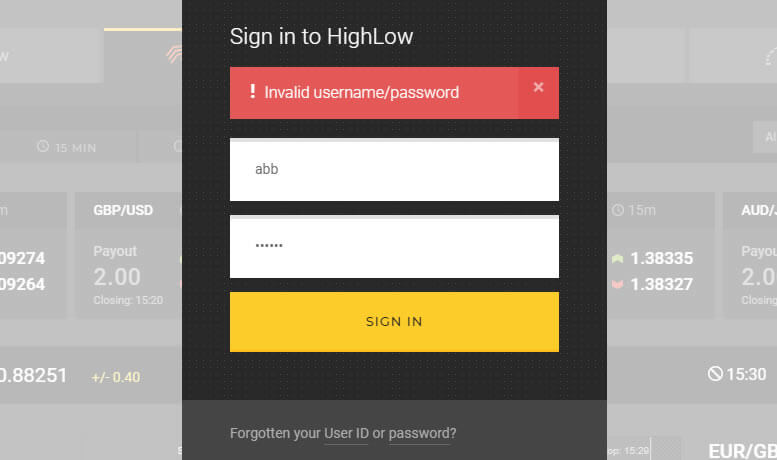 If you are not sure, you need to ask the support. I can imagine that High-Low Australia gets a mountain of E-mails every day so that they may reply very slowly. You might think that it is a frozen account. After you wait for a while, you can sometimes login.
It might be maintenance. However, if they just suddenly do that, It makes us surprised.
Did you feel the same, didn't you? Notably, on Sundays, They tend to conduct maintenance.
Why you cannot log in to High-Low Australia?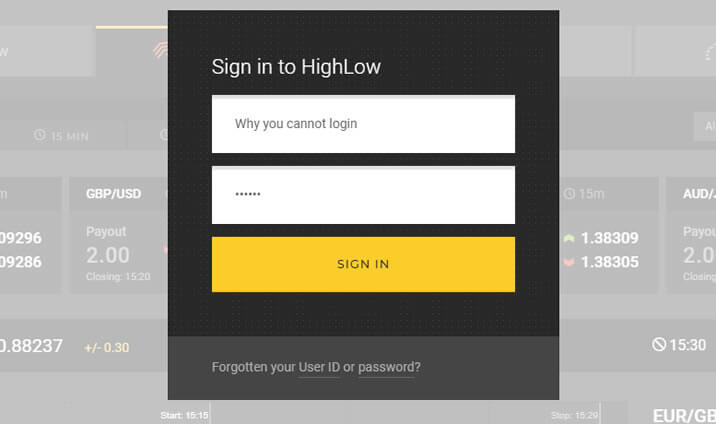 We know it is the rare case, yet we are a bit nervous about that. Why do they do maintenance? We never know the precise reasons, I give you some ideas.
Down by heavy loads → Maintenance
The Down by heavy loads can be the best reason. However, it is not only reason because the time is random. We cannot know how much load the server resist, so every purpose here is just my guess, though.
New contents, Add a trade
What you should now forget is that the preparation of new contents and add a trade. It was the same when spread on-demand are added. They usually implement these in the demo so that they often do not. When it is obscure, you scare it. At least, they do not evacuate, which is the saver.
A big careful to frozen account!
The most horrible thing is a frozen account.
You never face it unless you break the rule on your trade. Once you are suffered, you must ask it to the support.
About compulsory closing account
・The trade which targets the latency and front running

・They judge that you may use the auto-trading soft like an arbitrage between brokers

・If you abuse to use the credit card

・They judge that you overly put money on your account compared to your trading price

・If you fake your personal document, public utility charge, or letter.

・If the another who has the same name as you open several accounts(they may cancel both accounts)
You can see items above in FAQ in High-Low Australia, which is core reasons for frozen account and cancellation. If you did not touch these rules, the supports help you. However, if not, they cannot as well.
If you cannot log in, it is not their withdrawing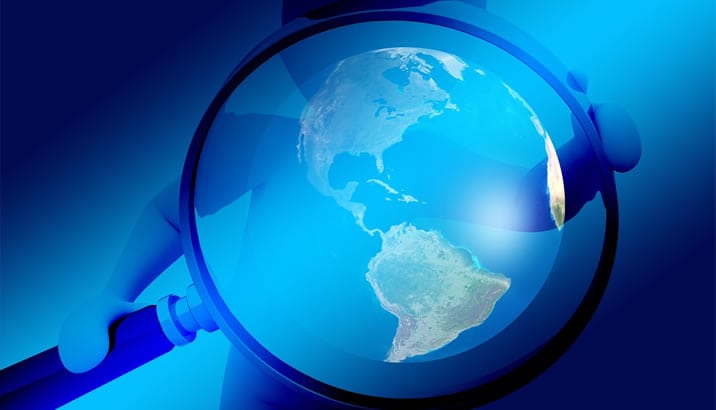 Even if you cannot log in, they do not withdraw their business, so don't worry. I know that you are worried about that, but they do not do it soon.
They still have NETELLER payment, but the login often does not work recently. It is not right tendency even if you have high payout rate and fast transferring.
It recovers soon so that you do not have to take it seriously.
When I find the case when you cannot log in, I add that. If you have any information, please share it with us!
You can access the details of High-Low Australia here.
Think the tactics in Quick Demo in your free time
When you cannot log in, you do not need to wait with irritating feel. There is the way to cope with that time.
Because High-Low Australia has "Quick Demo," and you can use it without login. If the server was down and you could not log in, you still can use the quick demo to think the tactics of trade, which saves your time.
People have said that binary option is useful for investing when you have a short break and nothing to do. If you cannot log in, you can fill the time with that.
A postscript ※ there is an error "invalid ID/PASS."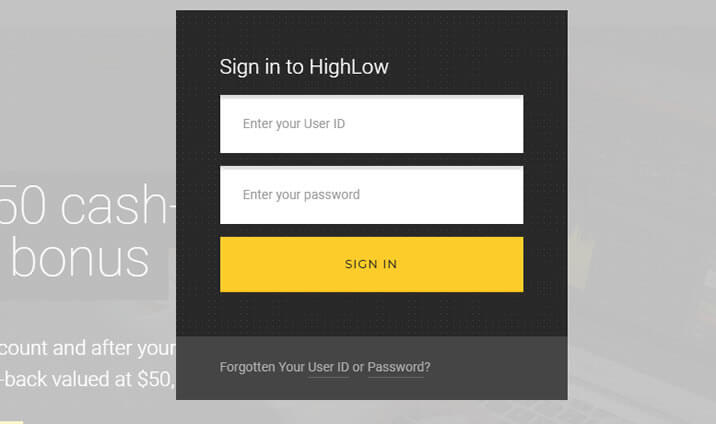 I got an error on 30th Nov 2017.
I can log in now, but at that time, it shows "! It is invalid username and password". I thought the frozen account and shocked a bit. It recovered in a minute. I guess that it is the server error.
I was irritated a bit. However, you have to wait when you see this kind of error message.
Binary Options Broker Introduced